MISSION STATEMENT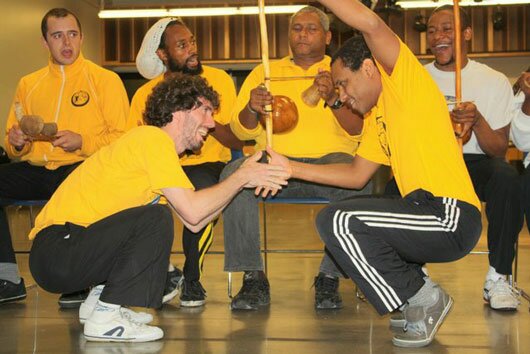 ICAF Seattle is a non-profit educational organization committed to the cultivation, preservation, and growth of the African Brazilian cultural art form Capoeira Angola. Our goal is the creation of a strong and vibrant community committed to social transformation through empowering individuals to overcome both self and societally imposed limitations.
ICAF Seattle is located at
Union Cultural Center
803 S. King St.
Seattle, Wa 98104
Corner of S. King St. + 8 Ave. S., International District
WHAT IS CAPOEIRA ANGOLA?
Capoeira Angola is an Afro-Brazilian art form--a fluid, rhythmic martial art; a ritual; a dance of deceptive vulnerability, wit, and grace. The intricate movements of Capoeira Angola weave tradition, history, spirituality, and philosophy into a uniquely beautiful "game". Like many African based traditions, it is orally transmitted from masters (mestres) to students.
Capoeira was used by enslaved Africans in Brazil to fight against colonial oppression. After emancipation of the slaves, Capoeira continued to develop in Brazil, however, it was outlawed for almost 400 years and so it was practiced in secret. To teach and practice Capoeira Angola was legalized in the 1930's. It survives because of the wisdom and dedication of a handful of mestres and their devoted students.
Played in a circle (roda), the game (jogo) of Capoeira Angola is an improvised combination of movements, a mix of acrobatics, rituals, and dance. The players respectfully demonstrate their skills in Capoeira while singing songs in Portugese and playing instruments.
MESTRE JURANDIR NASCIMENTO
Mestre Jurandir Nascimento founded the International Capoiera Angola Foundation Seattle in 1997. A small group of students invited him from Brazil to teach them the philosophy, movement and music of Capoeira Angola.
Mestre Jurandir worked tirelessly to bring the rich traditions of Capoeira Angola to the Pacific Northwest. The first classes were held at Miller Community Center on Capitol Hill. Mestre Jurandir also taught workshops in various schools in the greater Seattle area.For many years ICAF Seattle trained in a studio of their own where he taught music and movements, and endowed students with his rich knowledge and philosophy of Capoeira Angola.
Mestre Jurandir lived and taught in Seattle until 2005. The community he worked so hard to create continues to grow. Mestre's Jurandir's first Contra Mestre, Silvinho from Belo Horizonte, Brazil, currently leads the group.
Mestre Jurandir visits Seattle often to give workshops, demonstrations, and lectures.
In addition, Mestre Jurandir has been traveling to Mozambique for over 7 years to share his knowledge of Capoeira Angola. This year, the group FICA Maputo will celebrate their 6th anniversary. It is crucial that Mestre Jurandir upholds this strong connection and fulfills his leadership role through annual visits to Mozambique. Over two years have passed since his last visit, and he feels a great desire and responsibility to return to Mozambique this spring. Please help make this possible by making a personal donation.
Donate now to support Capoeira Angola in Maputo Mozambique.
Thank You!
Silvio Aleixo Dos Reis, Mestre Silvinho, Belo Horizonte, Brazil-USA
He has dedicated 23 years of his life to Capoeira Angola. He started capoeira with Mestre Rogerio, Belo Horizonte, Brazil in 1986 and as Mestre Jurandir's student he was the leader of FICA-BH for 8 years.
In Belo Horizonte he has taught for social programs created by the city council such as Homeless People and for street kids, named Kids in the Park. There he also taught for a Youth Project created to teach African Brazilian music, drums, and dance known as Tambolele.
Since 2004 he has been leading the International Capoeira Angola Foundation, ICAF Seattle, founded in 1997 by Mestre Jurandir, as well as the TESC Capoeira Angola Club at the Evergreen State College in Olympia, which was started by Evergreen students under Mestre Jurandir leadership since 1998.
Mestre Silvinho has taught at middle and high schools in Seattle and vicinities since 2004 while supporting the development of other ICAF Groups in the USA. He has presented and have been supporting the development of ICAF African Brazilian Community Festivals in Seattle and Olympia.He has been traveling and presenting at conferences in the USA since 2000.
SEATTLE CLASS SCHEDULE
| | | | |
| --- | --- | --- | --- |
| Sunday | Monday | Tuesday | Thursday |
| 4-6pm | 7:30-9:30am | 7-9pm | 7-9pm |
First Sunday of each month also includes open roda, and cultural/community event (film, lecture, discussion, potluck etc.)

Beginners are always welcome to these ongoing classes. Material covered varies widely from class to class, but gerenally presents the movement, music, and ritual that makes this art form so unique.
Tuesday
Saturday
ages 2 - 5
10 - 11am
ages 6 - 13
10 - 11am
Fall seven week session for 6 to 13 year old Saturday classes runs Sept. 15 - Oct. 27, sliding scale payment
Fall seven week session for 2 to 5 year olds Tuesday classes runs Sept. 18 - Oct. 30, sliding scale payment
Register early to confirm your child's space!
Children love to sing, dance, make music and play. Capoeira Angola is a fun and engaging art form that promotes the development of coordination, self-esteem, balance, strength, agility and more. Through the fundamental elements of cooperation, creativity and natural movements, children support each other and exceed their limitations.
Each class focuses on elements of achievement, leadership and community. Capoeira is by nature, a social art that is always played and practiced in a group. In these classes children enhance their musical, physical and social capacities through active and interactive participation.
Union Cultural Center
803 S. King St.
Seattle, Wa 98104
Corner of S. King St. + 8 Ave. S., International District
UNION CULTURAL CENTER MISSION STATEMENT
The mission of the Union Cultural Center is to provide an experiential educational space for teaching, sharing, and creating vibrant culture. We aim to connect people across generations and ethnicities through the traditional art forms of music, dance, and food to strengthen our community and uplift spirits.
Union Cultural Center
803 S. King St.
Seattle, Wa 98104
Corner of S. King St. + 8 Ave. S., International District
Donate to Union Cultural Center
The Union Cultural Center is moving to an exciting new location— soon to be announced! To make this transition smooth and successful, WE NEED YOUR HELP!
Please donate to Union Cultural Center
Thank You!
UCC Weekly Schedule
Sunday
Monday
Tuesday
Wednesday
Thursday
Friday
Saturday
4-6pm
Capoeira Angola
7:30-9:30am
Capoeira Angola

6:30-7:30pm
Afro-Brazilian Dance

7:30-9pm
Manimou Camara West African Drumming
7-9pm
Capoeira Angola
7:30-9pm
Manimou Camara West African Dance

6-7(8)pm
Capoeira Angola Music

7-9pm
Capoeira Angola
Talent
Rentals
We welcome our community to use the UCC space for classes, rehearsals, workshops, and parties. Our space covers 1000 sq. ft with wood floors and mirrors, conveniently located in Seattle's International District, at the corner of S. King St. + 8 Ave. S.
Call or email for rates and availability.
LINKS
ICAF Affiliate Groups
Misc. Links
COMMUNITY OUTREACH
We offer a variety of outreach opportunities to the community. We provide dynamic cultural experiences for teachers, organizers, and community leaders. Contact us to set up a workshop or performance.
WHAT WE OFFER:
After School Programs
Workshops
Performances
Summer Camps
Quarterly class sessions
Lectures inclusive of Capoeira Angola history, Afro-Brazilian Culture, and African Diaspora, dance/movement
BENEFITS TO THE COMMUNITY:
Capoeira is a fun physical activity that encourages individuals to build strength while working together with others. This art form can encourage self-esteem among students as they begin to develop both their bodies and minds while supporting camaraderie as a way to overcome our differences. Educating and engaging people in this martial art can bring empowerment and inspiration reflected in its historical influence in overcoming oppression.
PAST SCHOOL INVOLVEMENT:
Bertchi
Eckstein Middle School
Bush
T.T. Minor
Aki Kurose
Happy Medium
Rainier Beach H. S.
Thurgood Marshall
Dunlap Elementary
The Little School
The New School
NW School
Summit Elementary
St. Matthews
PAST COMMUNITY CENTER INVOLVEMENT:
Rainier Beach Community Center
Meadow Brook Community Center
Rainier Valley Cultural Center
PAST UNIVERSITY INVOLVEMENT:
University of Washington
Western Washington University
Seattle University
FUTURE EVENTS
PAST EVENTS
FICA NORTHWEST ALL MEMBER ENCOUNTER
Sunday, January 15th, 2011, 10am - 5pm at Union Cultural Center
Now is time to plan 2012.
Pacific Northwest region: Bellingham, Seattle, Portland and Olympia groups, let's get to know each other and compare notes on how we are running classes and rodas.
The Schedule:

10am - capoeira angola class, music and moviments, with Treinel Daniel from Oakland

1pm - lunch

2pm - discussion

3:30pm - roda
The discussion will be the main point of the encounter. Present yourselves, report on how your group is doing, dificulties, sugestions for activites, workshops, fund raising, rodas, seminars, general events.
On the Agenda:

The Afro Brazilian Festivals for the spring - Bellingham and Olympia

Mestre Silvinho agenda for classes and rodas

Mestre Jurandir fund raising

2012 Womens Conference in Hawaii

2012 FICA International Conference in Mexico
$10.00 for the lunch, or let's share-- you can bring a dish as a potluck. Fruits and non-alcoholic drinks are welcome too.
Looking forward to seeing most of you here to begin the new year with a good energy. Thanks! Mestre Silvinho.
UCC MEGA-FUND-RAISER PARTY
Saturday, June 25th, 2011, 6pm at Union Cultural Center
The Union Cultural Center is moving to an exciting new location— soon to be announced! To make this transition smooth and successful, WE NEED YOUR HELP!
Please come out and show your support for the UCC on Saturday June 25th for a MEGA-FUND-RAISER party. With a new studio comes increased rent and moving costs. All money raised on this day will help tremendously with these expenses and make this move possible. We are suggesting a $10 donation at the door.
The Lineup:

6PM: CAPOEIRA ANGOLA RODA FICA Seattle group, including Youth in Action and childrens class students

7PM: TUDO BELEZA

730PM: MARK LILLY, AFRO-CUBAN DANCE

8PM: SEATTLE FANDANGO PROJECT

830PM: DRUM AND DANCE WITH MANIMOU CAMARA, AWAL ALHASSAN, LARA McINTOSH, ABDOULAYE SYLLA, GONYA AND FRIENDS
We would love to celebrate this exciting transition will ALL of you! Thank you for bringing your incredible axe, your good energy, to our humble home over the past year. Let's move forward in unity, uplifting ourselves through dance and music!
Tango is About the Connection
Saturday, April 30th, 2011 at Union Cultural Center
Tango Workshops (Intermediate-Advanced for Tango Dancers) by Gabriela Condrea:
Tango is About the Connection (4:15-6:15pm):
This workshop is designed to fine-tune your skill of perceiving what your partner wants and hone your ability to ask for what you need without words. $20 prepay, $25 at the door

Feel the Music, Be the Music (6:30-8:30pm):
The tango couple is a musical instrument; both leads and follows contribute to musicality and participate in the conversation with the orchestra. In this workshop we will explore different ways of connecting and playing with various types of tango music (rhythmic, melodic, tango electronico, etc.). $20 prepay, $25 at the door
Gabriela Condrea

www.gabrielacondrea.com
Facebook: "Tango is About the Connection"
Winter Open House at Union Cultural Center
Saturday Feb. 26, 2011
EVERYONE is welcome to come check out the vibrant community at the Union Cultural Center for WINTER OPEN HOUSE!
We have an awesome day planned, packed with classes from all the teachers at the UCC plus a Capoeira Angola workshop and roda with Treinel Daniel (FICA Oakland), and a Brazilian dance party with live Forró music!
12 - 12:45pm - Yoga - Megan Carrol
1 - 1:45pm - Brazilian dance - Dora Newman
2 - 2:45pm - West African dance - Manimou Camara
3 - 3:45pm - Afro-Peruvian dance - Giselle Carcamo
4 - 4:20pm - Wassa Dance - Lara McIntosh
4:25 - 4:45pm - Afro-Cuban folkloric dance - Mark Lilly
5 - 6pm - Capoeira Angola Workshop with Treinel Daniel from FICA Oakland
6 - 7pm - Capoeira Angola Roda
8 - 11pm Forró Dance Party - Forró No Morro
$10 suggested donation at the door. We will also have delicious food and drinks for sale. Please come out and support cultural arts and artists in your community.
16th Annual International Encounter of Capoeira Angola
CAPOEIRA ANGOLA E MANHA, E MALICIA, E TUDO QUE A BOCA COME
"Nourishing the Capoeira Family"
September 2 - 5, 2010
FICA Seattle Studio and Camp River Ranch in Carnation, WA

Capoeira Angola Workshops
Lectures
African Dance and samba Workshops
Movie Presentation
Rodas
(see the videos in the Gallery page)
FICA Seattle presents: Youth IN Action
July 9 - September 2, 2010
FICA Seattle Studio
Calling ALL Youth!!!
ages 14 - 18
Play Capoeira Angola. Sing. Dance. Make Music and Friends. Take the Stage. Explore Non-Violent Self Expression. Eat Free Food. Paint a Mural with a Professional Artist. Speak Out Against Violence. Play more Capoeira Angola!
This FREE program is made possible by the City of Seattle's Small and Simple Neighborhood Matching Fund.
Click here to Find Out More...
FICA Seattle Studio Open House
Sunday March 28 2010
954 E. Union, Capitol Hill
Brazilian Percussion Workshop
Brazilian Dance Workshop
African Dance Workshop
Capoeira Angola Workshop-- All ages
Capoeira Angola Roda
Sambadance Performance w/ Tudo Beleza
(see photos in the Gallery)
Annual Womens Weekend Event
Friday - Sunday March 6 - 8, 2009
(see photos in the Gallery)
2008 Afro-Brazilian Festival / Pastinha Conference
Fri - Mon Nov. 14 -16 2008
(see photos in the Gallery)
2008 Summer Camp
12pm - 3pm Mon - Fri Aug. 4 - 8 2008
(see photos in the Gallery)
Rodathon!
Friday Feb. 29 2008 6pm - Midnight
"Women's Empowerment in Capoeira Angola" Weekend Event
Friday - Sunday March 14 - 16, 2008
Garage Sale & Open House
Garage Sale Saturday & Sunday October 29 & 30, 2005 10am-7pm
Open House Sunday October 30, 2005 10am-7pm
Lots of Great Items
Rainier Beach Community Festival
April 29-30, 2005
FREE! All Ages.
Performances, workshops, group discussion, community Roda and Party
5th ICAF International Womens Capoeira Angola Conference
March 11, 12, & 13, 2005
Workshops, Rodas, Music, Performances, Lectures, Panel Discussions
Open House & Garage Sale
Sunday November 14, 2004
Workshops, Music, & Food
Women's Presence in Capoeira Angola
April 1-4, 2004
Fourth Annual Women's event in Seattle
Homenagem ao Mestre Pastinha
November 7th, 8th & 10th, 2003 Seattle
FREE CAPOEIRA ANGOLA COMMUNITY FESTIVAL
November 9, 2003, 10-5pm
Seattle Central District
Mestre Jurandir Leads Capoeira Angola Workshops in Japan
May 22 - 28, 2002
Japan
"Samba & Orixas Rhythm" by Jorge Alabe
May 4-5, 2002
Seattle, WA
4th Annual FICA International Capoeira Angola Womens Encounter
March 8-10, 2002
Seattle, WA
Tribute to Mestre Pastinha Capoeira Angola Workshops w/ Mestre Cobra Mansa
November 9-11, 2001
Seattle, WA
Seattle Summer 2000 Capoeira Angola Encounter
August 25 - 27, 2000
Workshop with Mestre Cobra Mansa
Saturday & Sunday July 17 - 18th 1999
The Second Annual Capoeira Angola Encounter in Seattle